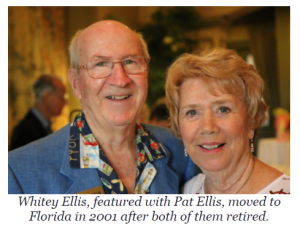 Protected Harbor would like to honor Board of Directors member, Patricia Ellis. Previous to joining Protected Harbor in 2012, Pat was a teacher and librarian who led special education classes at her local church.
Pat's connection with Protected Harbor started with the desire of her and her husband Whitey, to have a loving, Christian group home to care for their son, Dennis, when both no longer would be able.
Pat was invited to serve on the Board of Directors 2 years after Protected Harbor's ladies home was constructed. She happily accepted the offer, and since then, has been a leading force enriching our programs and lending support in fundraising and event planning. She has provided stewardship in counseling for parents of individuals with intellectual or developmental needs. Reaching out to others seeking guidance and making Protected Harbor's mission known throughout the County, is a continued and everlasting process, but one that Patricia is honored to be a driving force of.
Pat's experience as an educator and special needs mentor has provided invaluable expertise in helping to grow the awareness of Protected Harbor in the community. Pat continues to help expand the number of volunteers and donors who support Protected Harbor.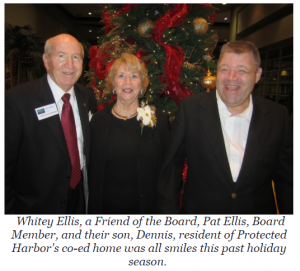 Pat spends most of her time developing two annual fundraisers for Protected Harbor, the annual Prayer Breakfast and Homes with Hearts Luncheon. When Pat was asked why she feels a close connection to Protected Harbor, she responded that, "Parents seek God's guidance to look for a Christian home where your loved one can grow and prosper, and to become the person God intended him or her to be. It brings my husband and I comfort in knowing that our son will be cared for in the best possible way and we want all families to experience that same level of comfort."
Protected Harbor is honored to have Pat Ellis as part of our Board of Directors. We value all that she has done to help ensure our residents have a safe and loving home to allow them to reach their full potential spiritually, emotionally, personally, and physically.