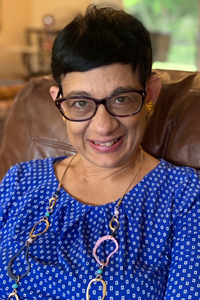 Cleo thinks of herself as our "party girl". Behind her smile is a woman always ready to try something new and who can find fun in the most mundane aspects of daily life. Cleo's parents, George and Athena Pappas played a central role in creating the idea for and the actual building of Protected Harbor's first group home where Cleo has been living. She proudly thinks of it as the home her daddy built for her.
Cleo is a big fan of old movies and fantasizes about being part of the drama and romance portrayed in old Hollywood classics. It is no surprise  that she loves dressing up as if going out for a night on the town, wearing a pair of earrings from her extensive collection. The highlight of any holiday is anticipating a trip back home, allowing her the opportunity to take her parents out to dinner.
Cleo also loves to read, learn and interact with others. During the week she attends training classes that help her with stress management techniques. She also participates in do-it-yourself experiments and projects, learning money and math skills, and reading books.
Dinner time each night is her opportunity to engage the other residents in conversation and rehash the day's events while joking and chatting about the activities planned for the next day. She is certainly in her element enjoying good food, good friends, and good conversation!
One of the Bible verses Cleo keeps on her bulletin board reads: "Above all, keep loving one another earnestly" (I Peter 4:8).  In every way she can, Cleo seeks to live this verse out daily. She is passionate, sensitive, friendly, welcoming, and contagiously happy with the good life God has given her.