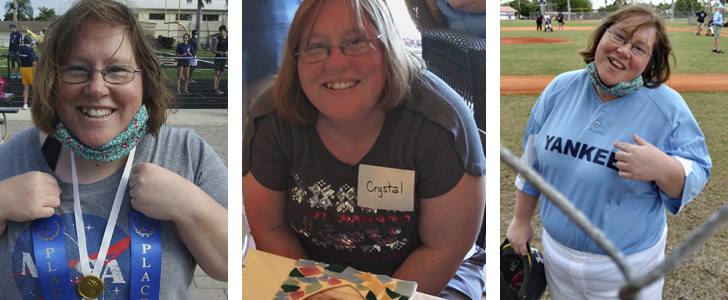 We love highlighting our wonderful residents! Crystal is one of those people whose infectious smile becomes immediately contagious. You may even have seen her sweet face on some of our marketing pieces.
Crystal came to live at Protected Harbor after her family met some of the residents of PH while attending the same church. It was a divine connection. Crystal's mom needed an emergency placement for her having recently been made aware she would not survive a fatal illness. Our staff, fully aware of Crystal's circumstances promised that when the time came, Crystal would have a home at Protected Harbor.
Nearly three years ago Crystal settled easily into what is now her permanent home where she feels stimulated, protected, and loved, surrounded by her new "brothers and sisters" as she affectionately refers to them. She doesn't isolate herself, rather she participates in all the activities enthusiastically with the other residents. Her love of music and dancing is obvious, but she also loves sports and participates in golf, basketball, and bowling. A more recently acquired hobby has been her mosaics class. Despite this, she still enjoys having her private space, her own bedroom, desk, and TV.
Crystal's demeanor which exudes optimism comes from her reliance on her Creator who has never abandoned her. Living at Protected Harbor has become simply an added miracle in her life, and she is continually thankful for that. As you can see from the photos, her smile is living proof!