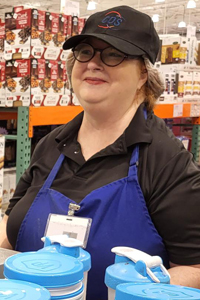 National Disability Employment Awareness Month (NDEAM) is a time to celebrate the remarkable contributions of individuals with disabilities to the American workforce. It's a month that highlights the importance of inclusive employment practices and policies that benefit both employers and employees. At Protected Harbor, we're proud to share an inspiring update on one of our extraordinary individuals, Deb.
Deb, a native Floridian, is a cherished member of our community, bringing her unique personality and life experiences to the group. Her love for Florida's beauty and climate is undeniable, except during those occasional heavy storms that sweep through the Sunshine State.
Deb's goal is to achieve greater independence, with the help of Supported Living Services, and live in her own apartment. To prepare for this exciting chapter of her life, Deb decided to seek employment. She was thrilled to accept a position as a Demonstrator at a local warehouse club. In this role, she presents a wide range of products, from popcorn to gummy vitamins, with a friendly demeanor that aims to engage and captivate customers. Her interactions with patrons not only help sell products but also bring her closer to achieving her daily goals.
What truly brings Deb joy is the camaraderie she shares with the other ladies at Protected Harbor's PH2 residence. Their smiles and laughter fill the air, creating an environment that feels like home. Deb also appreciates the support she receives from our dedicated staff, especially when it comes to managing her budget – a skill she's working on improving.
When asked about her life, Deb exclaims, "I love my life, and I want to live it to the fullest." Though she doesn't have a specific favorite Bible verse, she finds solace and inspiration in reading all the Gospels. As an avid animal lover, she takes pleasure in birdwatching and researching the various bird species she encounters, all while dreaming of future travels and cruises. Deb also enjoys visiting weekly Farmer's Markets and cherishes the time she spends with her family.
As we observe National Disability Employment Awareness Month, let Deb's story serve as a testament to the power of inclusion, support, and the pursuit of independence. Together, we can continue to create a more inclusive and supportive society for all individuals, regardless of their abilities.