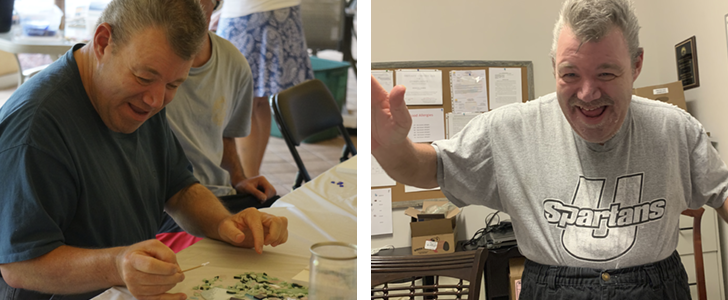 Dennis was the very first resident after the completion of Protected Harbor 2. As such some view him as the "mayor" of the home! He's been a resident since February 1st of 2018.
Being a very friendly person, Dennis has adapted well to this setting and has quickly made lasting friendships. He enjoys the comradery and the activities he can engage in, in a social setting. The staff members are an integral part of his life also, as they help him complete daily chores such as getting himself ready in the morning, doing laundry, and cooking.
Outside of the home, Dennis enjoys helping out at Goodwill, where he has also made friends. Additionally, he likes playing baseball and basketball and especially going to church on Sundays. Taking long walks is another activity he enjoys, particularly in good weather.
Dennis loves to spend time with his family and joins them for dinner at Perkins where he habitually orders his favorite meal: cheeseburger, French fries, and a diet Coke. He also indulges himself with helpings of cake and ice cream whenever he gets the chance.
The highlight of the past year has been participating in the Trailways Spiritual Camp, which took place last October. He went fishing and caught a large fish, making him very proud. He's looking forward to the next opportunity to attend again.
His favorite thing about going to church is learning about Jesus through the Bible stories. He loves church where he can participate in worship and learning.
Dennis is a great asset to the Protected Harbor family.