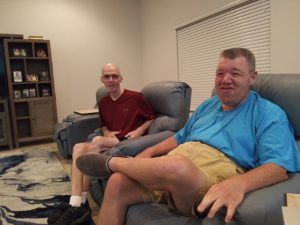 Dennis will proudly tell those he meets that he was one of the very first residents to occupy a room at Protected Harbor. He has adjusted well
and loves living in the house because he is able to share his passions with his new friends and housemates. One of his passions is baseball, and even with the added difficulties imposed by COVID and social distancing regulations, he recently has been playing once again. This is the first organized sports event he has been able to participate in for a while and he is very excited.
Dennis also loves attending church with his parents whenever possible, and enjoys singing God's praises along with his mom and dad and the congregation. During most weekdays, Dennis spends time on his online Adult Day Training Program, but then cannot wait to return to the more physical, real world engagements with his friends and beloved teachers.
He gets out often to exercise and walk, but during his down times you will find him watching "Everyone Loves Raymond", "The Andy Griffith Show" and other vintage comedies on TV. He also enjoys watching "Wheel of Fortune" and other game shows. When it comes to outings and given a choice, Dennis gravitates to Perkins or Dairy Queen where he is able to order and enjoy his meal of choice: a cheeseburger with fries and a Diet Coke.
Behind his perpetual smile, you may notice a twinkle in his eye belying a mischievous side.  House Manager, Chadwick Duncan explains here: "Dennis is our elder statesman, and you can count on him to know what is going on in the house. If you tell him someone is coming to visit two weeks from now, he will ask if they are still coming the night before the due date. But he can also be mischievous, ready to bring up a running joke when the house is quiet in order to get some humor flowing." And Jeanni Duncan adds: "Dennis is always happy to see you and is our steady rock at Protected Harbor."
This may explain why, even though he absolutely loves spending time with his parents, Dennis is always happy and anxious to return to what he calls, "home".