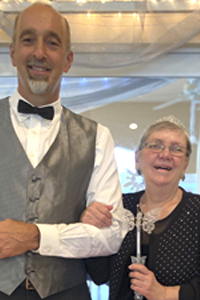 Janie is usually one of the first residents up in the morning and one of the last to go to bed at night. She begins each day with an innate sense of excitement, an emotion which reveals her curiosity about what each new day will bring.
Her morning and evening routines anchor her day. They begin with a daily breakfast of coffee, oatmeal, or eggs and bacon. Her evening rhythm of crocheting and chit-chat is a comfortable bookend to her otherwise busy days.
While school is in session, Janie volunteers at the Food Ministry at McGregor Baptist Church alongside several of her housemate friends. There she works on prep and cleanup for the lunches served every day. When she is not volunteering at the church, she can usually be found sweeping sidewalks or helping with other chores. The valuable life skills training and support Janie and the other residents receive from the staff is always geared towards guiding them to become as independent as possible.
Janie is known as a prayer warrior in the house. She will often invite anyone near her to join her in prayer for people, situations, and needs she has been made aware of during the day. Her faith is pure, simple, straightforward and honest. She is aware that reliance on her heavenly Father is essential to her life and of the lives of those around her. Both the residents and staff at her house are grateful and feel blessed when Janie prays.
Despite living away from them, Janie loves all the members of her family, especially her older sister. They talk as often as possible sharing anecdotes about their daily experiences and humorous occurrences. She is also an animal lover, in particular dogs! A police K-9 team regularly trains in an open field adjacent to the house. Janie is mesmerized by the interaction between the officer and his dog. Her stuffed puppy Pepper is the closest thing she has to owing her own dog.
Janie also has a soft spot in her heart for babies and enjoys watching YouTube videos of young children in humorous situations, making her smile. Behind her smile is definitely a maternal instinct which explains her thoughtfulness as she serves and prays for others.
When asked about Janie for this article, Debbie Kappenman, one of the staff members at Protected Harbor 1, commented: "I am amazed at Janie's stamina and joy. She is our oldest resident yet she keeps up with the ladies years younger than she is. But the sweetest thing about Janie is her praying. She is a model of that child-like faith and spirit that Jesus commends."