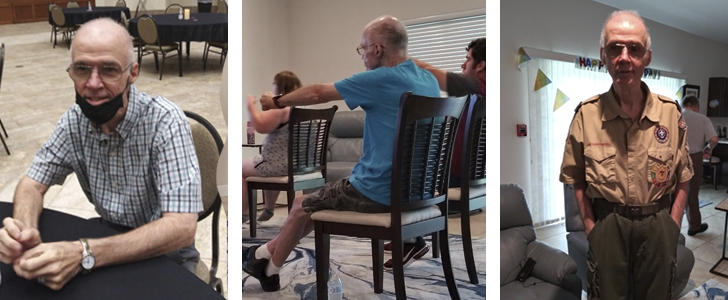 Ken is one of the more recent arrivals at Protected Harbor. He joined us in August 2020 after living in a group home in Michigan, where the weather in winter is definitely not as balmy as Florida!
Since arriving, Ken has adjusted well to his surroundings and new roommates but particularly enjoys the privacy of having his own room and bathroom. He is an enthusiastic participant in all things sports-related and will try anything at least once, including baseball, basketball, bowling, golf, and vigorous walks with others. Mosaic art, STARability opportunities, and shopping trips with the staff have also become favorite activities.
Ken is very proud of having been a member of the Boy Scouts in his youth, which allowed him opportunities to participate in sports activities and socialize. His move to Protected Harbor has proven to be a huge success. He and fellow resident, Dennis have become best friends and his new home with us has given Ken the extra impetus to become more involved in social activities, studying, reading the Bible, and generating genuine smiles from those around him.
A year into his new beginning, Ken has settled in and considers Protected Harbor his true home. We are blessed to have him in the family!