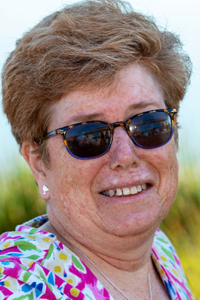 Kim is a joyful resident of Protected Harbor who keeps herself busy doing daily chores, interacting with her housemates, and volunteering outside the home. Her favorite thing about living at Protected Harbor is the fun she has goofing around with her friends and staff, participating in many of the activities offered, and volunteering at her church, where she serves meals to students.
One of her favorite recent activities was attending the annual "Night to Shine" event allowing her to dress up and dance with her friends. She also enjoys seeing old friends there and catching up by sharing personal stories.
Additionally, Kim loves bowling, shopping, and doing chores like mopping the floors and cleaning up. She'd like to learn to sew and make jewelry, a talent some of her friends have. She is grateful to have help from the staff with her finances, learning new skills, and managing her daily chores and activities.
Kim's heroes are her mom, dad, and brother. She would love to travel to Arizona to visit family members there. She has an eclectic taste in food, her favorites being Shepard's Pie and Tiramisu. She also has an affinity for rabbits; they remind her of a pet she once had called "Snowball."
Kim delights in re-reading Psalm 23. She finds daily inspiration in the words it contains.