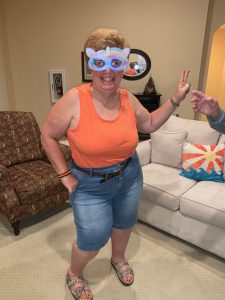 As we continue to introduce the residents of Protected Harbor by name through this newsletter, we hope your prayers for this ministry may become more specific for each of the wonderful residents who reside in our homes. 
Kim Williams is one such person. Behind Kim's smile is a genuine concern and love for those around her. Despite the sometimes chaotic activities that mark each morning, Kim intentionally seeks everyone out to inquire how they slept the previous night, what kind of new day they expect, and offering them an encouraging word.
Kim keeps very busy most weekdays as she joins a team of volunteers from Protected
Harbor serving at the Food Ministry of McGregor Baptist Church. She loves working in the kitchen, preparing food, exploring recipes and cleaning up.  When she is not working, Kim enjoys knitting. She and a small group of ladies knit caps and shawls for cancer patients. She calls it the "prayer shawl ministry" because while knitting, they pray for all the people who will use the shawls.
Due to Covid restrictions, Kim has missed one of her most cherished activities, singing in the McGregor Baptist Church choir.  Kim's time of rehearsing and singing in the choir has been temporarily suspended. She misses it tremendously, continually asking when she can begin singing again. Please join us in prayer that she will be able to resume this activity soon.
Kim also loves jokes and riddles. She constantly tries to stump the staff with her most recently discovered riddles. She also enjoys riding her bike, especially now that the weather is cooler. She takes every opportunity to join the three or four mile treks alongside the staff and other residents.
When asked about Kim for this article Virginia Hicks, one of the Protected Harbor staff members, said: "I don't know a sweeter soul than Kim. She is one of the kindest people I know." While Pat Kappenman added: "We enjoy the laughter and joy Kim brings to the house and to our lives." Please pray for Kim and thank God for the joy and spirit she shares with her Protected Harbor family.