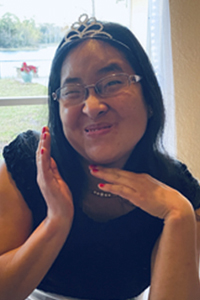 Kimber is a well-rounded young woman who is a helper, a joker, a worker and a learner with a creative and intuitive mind. She is a woman always on a mission who loves to say; "I have a question". What then follows is a conversation that may either lead to new insight or to explosive laughter as she uses her quick wit to turn the question into a joke. Asking questions has had the benefit of turning her into an encyclopedia of knowledge for household tips and she puts these into practice whenever possible.
When Kimber joins her housemates at McGregor Baptist Church's food ministry, she contributes happily and efficiently. Because of the life skills training Kimber receives at Protected Harbor, the staff at McGregor appreciates her knowledge around the kitchen and her readiness and willingness to help with any chore.
When she is not working or doing household chores, Kimber likes to engage in crafts such as jewelry making, hat knitting or any new creative idea which may peak her curiosity. She also likes all sorts of games both online or actual board games, but her competitiveness is always light hearted and usually capped with uproarious laughter. Recently, she and her housemates have become interested in disc golf, and like them, she is looking forward to being able to play the game on a real course.
Kimber loves and misses her family, but is able to engage with them online often. She is particularly proud of being an aunt to her nieces whom she cherishes. "Kimber keeps me on my toes", observed house manager Pat Kappenman recently. She added: "She likes keeping busy and she likes a good joke. We not only need to help her get her things done, we need to stay one step ahead of her humor!"
We are blessed to have Kimber. She is a wonderful member of the Protected Harbor family.