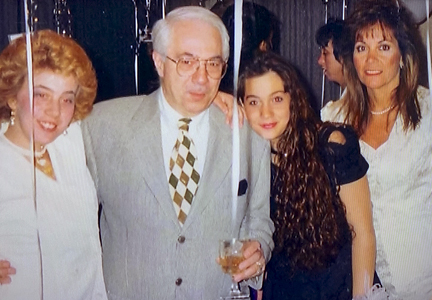 When Joy C. was invited to attend a Protected Harbor board meeting almost a decade ago, she immediately thought of her daughter Kristin. Unlike her sister Dana, Kristin grew up needing special attention and care her entire life because of her developmental and intellectual challenges. They have a close and loving family, but Joy was thinking ahead to a time when she would no longer be able to care for her daughter.
She was prescient in her thoughts, because in 2012 she went to be with her Creator leaving Dana as the primary care taker for her sister. Joy had prayed for peace of mind that her special needs daughter would be able to live out her life in a loving and caring environment with friends to share her life with. Protected Harbor is just the perfect setting for her. Kristen in fact will be our newest resident and will be welcomed as "family" by the others with whom she will be sharing a home. It comforts her sister Dana that her forty-six year old sister will be living in the very place their mom prayed about and desired for Kristin.
For Kristin the love of family is paramount and this new extended family will be a wonderful addition.  She will remind her fellow residents about her birthday 4-6 months in advance to make sure it won't be forgotten! May 8th therefore will be a date that she looks forward to in order to celebrate it just like she did most recently by having a luau themed cook out with her friends. Despite the luau however, her favorite food is actually Italian. Maybe a pineapple pizza was part of the menu!
She loves music and dancing, especially to the hip hop style of Kirk Franklin and other Christian artists. Her very favorite vacation spot is the Universal Studios theme park in Orlando which she visited often with her family. You could spot her there dressed in her favorite color: hot pink. Kristen will be joyously welcomed as a new family member at Protected Harbor, the place her mother Joy envisioned for her. She will begin this new chapter in her life guided by her favorite Bible verse found in Philippians 4:13: "I can do all things through Christ who strengthens me."