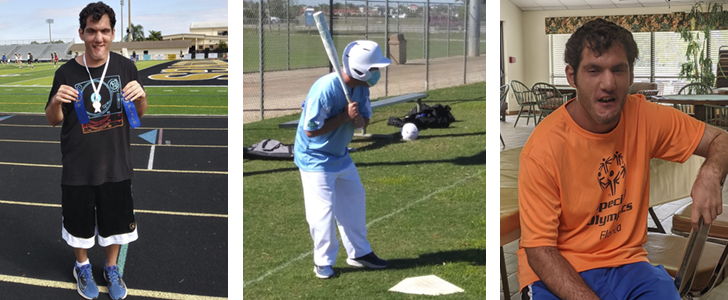 Matthew is a native New Yorker who has been a resident of Protected Harbor since May 2019. It's no surprise, that he picks Matthew as his favorite book in the Bible!
Before arriving in Ft. Myers, Matthew was a resident of Sunrise Group Home in Miami. Once his mother learned of Protected Harbor, the choice was made to have Matthew come live with us.
With staff guidance and support, Matthew has embraced new independence. You may have seen recent announcements featuring him completing a 5k run as well as throwing out the first pitch at a local Mighty Mussels minor league game! He loves running as it gives him an independent feeling of freedom and energy. However, interacting with fellow residents and staff also gives him joy.
Besides running track, Matthew enjoys group sports such as baseball, basketball, and activities like bowling, exercise classes, companion services, STARability functions, and PTO. He has the appreciation, shared by the other residents, of enjoying a private room and bathroom, giving him further feelings of independence. It is never a dull moment when Matthew is around. Behind his smile is the joy of living and sharing in a loving and caring "family".