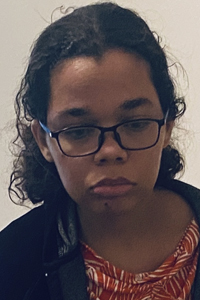 Protected Harbor is blessed with a governing Board that includes directors from varied backgrounds, professions, and life experiences. Similarly, the clients residing in our supported living homes represent equally diverse backgrounds and life histories.
Tiffany is one such resident who despite being reluctant to share much about herself verbally, expresses herself beautifully through art. She absolutely loves drawing, painting, and crafting mosaic pieces, which she is very proud to display. Tiffany's talent inspires her roommates to emulate her and create their own art pieces.
Additionally, Tiffany enjoys the outdoors and is especially happy to live in Florida, where she enjoys perennial spring or summer, void of the cold brought by winter! She also enjoys attending classes at Goodwill where she experiences an environment outside her home, with different people, that expands her social sphere.
When asked about her favorite food, Tiffany's immediate response is pizza. She's certainly not alone in that! She also enjoys the Japanese restaurant Kumo, where she delights in observing the chefs create interesting dishes right before her eyes.
Tiffany has many other "likes"; she loves Christmas (her birthday is coincidentally in December), and she mentions the Bible as her favorite book. Her current wish is to visit an art museum where she could gather new inspiration for her own creations.