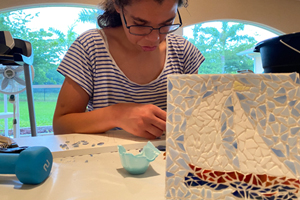 Tiffany is a well-rounded creative young lady, whether it be expressed through music or art. She has a meticulous eye for detail which became obvious once she began experimenting with small pieces of colored glass while creating her first mosaic piece. Her artistic skills caught the eyes of her fellow residents who lavish her with praise and accolades once they see her completed work. This is also true when she plays the Indian flute. What she struggles to express verbally, can be easily understood through her artistic expression.
Tiffany loves to read and learn. In addition to her involvement with the regular training programs offered, she is teaching herself the Japanese system of writing using Chinese characters known as "kanji". This is an obvious transition for her, as she can use her innate artistic abilities to design perfectly crafted characters while being amazingly able to remember what each one of them means. Along with kanji, she is fascinated by Japanese culture, literature, and art.
When not involved in didactic activities, she loves being outdoors. Tiffany is an avid bicyclist who has been known to take seven to twelve-mile rides alongside staff and peers. Her favorite local trail is the John Yarbrough Linear Park, a short distance from one of our homes. She also enjoys walking and working out to guided video sessions. Maintaining good health is obviously important to her.
Animals find a sensitive friend in Tiffany. She enjoys the beauty of creation and has a special soft spot in her heart for its many creatures. In fact, she rides horses as part of the Special Equestrians program offered to our residents, loves visiting the zoo with her grandmother, and keeps track of the many small animals that saunter around our grounds. Tiffany is often found sitting on a bench by our nearby lake surrounded by and enjoying the beauty of nature.
Above her desk, she has a note that reads: "Remember to Pray. It is the most important skill of all". We are honored to have Tiffany as a member of our Protected Harbor family and be a part of her growth as she develops her many skills. We are also encouraged by her willingness to be involved in spiritual activities as she grows in her faith.