BOARD MEMBER SPOTLIGHT
Getting to Know Jeff Buchholz: Family Man, Realtor, and Advocate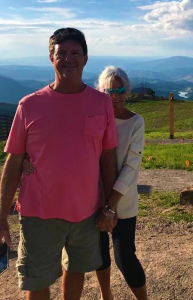 Originally from Toledo, Ohio, Jeff and his family moved to Naples as full-time residents in 1997. Jeff began selling real estate in 2006. Prior to that, he was in the consulting business working with auto dealers and manufacturers throughout the United States and Canada. Tired of commuting and wanting a fun, relaxed atmosphere, and most importantly, missing the community and climate of Naples, Jeff embarked on a new career in real estate in Florida. He has been licensed since 2006 and joined the John. R. Wood organization in 2009.
Excellent customer care has allowed Jeff to become a multi-million dollar producer for one of the finest real estate firms in the country. He has always had a commitment to serving the public and their needs. Jeff connects well with the community of Naples and always knew he wanted to give back in a special way. Working out of the Edgewater Beach Hotel office, Jeff had the opportunity to help those in Naples looking for a home in the area.
"Bring Your Highest Expectation!" This is the motto Jeff follows each day and is the guiding principle to what brought him and his family to the beautiful paradise called Naples, Florida!
With over 30 years of experience satisfying customers, Jeff is proud to be a part of the Naples community. Now Jeff is embarking on helping those with intellectual and developmental disabilities seek a need for permanent, supportive housing. Jeff has found a new passion and purpose for his skill set. Jeff is confident that with local support, Protected Harbor can transform the lives of many.
Typically, when not at work, be it at real estate or assisting local organizations, you may see Jeff at a car racing event or a football game. He is a big sports fan and has remained true to the Cleveland Browns. He loves to travel and visit friends and family throughout the country. He also enjoys the lovely beaches of Southwest Florida with those close to him.
Jeff, thank you for your commitment to Protected Harbor and the Naples community!