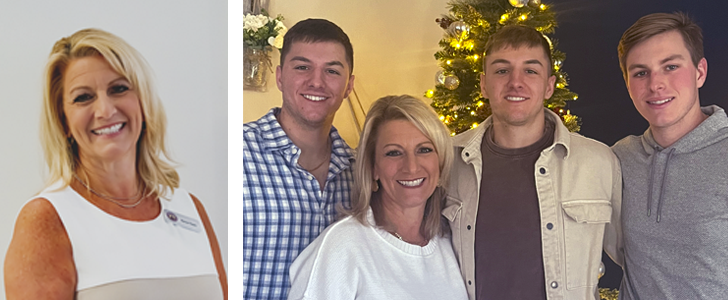 Alyssa Hayes has been a Board Member at Protected Harbor for the last twelve years. She is also on the Fundraising Committee and is a valuable member who is selfless in giving of her time, talent, and experience.
Born and raised in New York she moved to Naples in 2005 with her late husband and three sons. As a single mom for the past 16 years, it has not always been easy, but she has found joy in her volunteer work with Protected Harbor. She is a Speech Language Pathologist having worked in that field for the last 31 years. Alyssa currently works in the Collier County Public Schools, where she just completed 17 years of service. Her role mirrors the needs of our adult clients, but her students are typically 3-12 years old in elementary school. They are children with severe cognitive and communication disorders, dyslexia, and various other speech and language disorders. She also has a background in assistive technology, feeding and swallowing as well as behavioral interventions.
When she was introduced to Protected Harbor, her background, particularly that of a Speech Pathologist, was a perfect fit for the needs of our clients. She has since worked one-on-one with several residents, by helping to enhance their communication skills. She enjoys the annual pool day at her home when the residents of the two houses spend the day swimming, playing pool games, and eating some of their favorite foods. It gives her great joy to serve them and watch them enjoy splashing in her pool and lounging in the sun.
Alyssa looks forward to the time when the vision of a complete campus will become a reality. Working on the Fundraising Committee has recently become an even more important assignment, as funds are needed to achieve our lofty goals. She additionally serves as Secretary for the Board of Directors, taking detailed notes at all the meetings. Attention to detail and effectiveness in communication certainly helps the organization.
Believe it or not, Alyssa does carve out some personal time for herself, taking time to enjoy her three adult sons, gardening, and going on walks. Her favorite verse: is Isaiah 58:11(NLT) "The Lord will guide you continually, giving you water when you are dry and restoring your strength. You will be like a well-watered garden, like an ever-flowing spring."