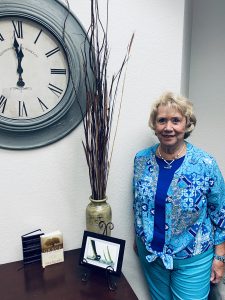 As older parents of an adult son with developmental disabilities Pat and Whitey Ellis had reason to be concerned and interested in finding a home where their son Dennis could later live with the kind of love and support his parents have provided throughout his life.  God heard their prayers and was already at work, preparing a place for Dennis' future.
Friends, George and Athena Pappas also have a daughter with special needs. When Pat Ellis first met George he had already begun envisioning a safe living environment for adults with disabilities. While attending a meeting with George and others, Pat heard the idea of building a home where men and women who could not care for themselves independently was discussed. The idea was one that struck a note with Pat personally as the mother of a young man with a developmental disability.  She knew deep in her heart that this was not just "any" project, but a God thing.
In 2010, the idea of Protected Harbor became reality. When Pat and her husband, Whitey visited the first project, they were both impressed with the result. Not only was the spacious home beautiful, each resident having their own private bedroom with en suite bathroom, but it was clear the focus of all things would be "Christ centered".  
"When I walked into the first Protected Harbor home after it was built, I was impressed with how well GOD worked to make Protected Harbor become possible for people with disabilities to find a loving and caring Christian home allowing them to live life at its fullest and be the best they can be."
Even though this first home was designed exclusively for women residents (and the two staff couples that would also reside there), Pat enthusiastically joined the board of Protected Harbor. Then in January of 2018, a second, home was completed and Pat and Whitey's son, Dennis became its first official resident. It is no surprise that Dennis loves it there. He frequently enjoys weekend visits with his parents but always reminds them when it's time to take him "home" (to Protected Harbor). 
Not surprisingly, as Pat began her work on the board, she realized how many people were unaware of Protected Harbor or its purpose. She also became aware of the insurmountable challenges ahead as the need for financial support as well as suitable personnel became more pressing. 
Her work on the fundraising committee is one way she can  get the word out. With her special connection she is able to share the story of Dennis and Protected Harbor with everyone she meets.   Her message is simple but compelling: "Our Christian homes bring Christian values to this work, and the loved ones being served are treated with respect, dignity and are genuinely loved." And then as a personal note she adds: "My son Dennis will continue to have a better life and so will so many others like Dennis who are seeking their forever home. My work is not just for Dennis, but for all the homes and all those who live there."
Making an impactful connection with new friends and fellow Christians has become Pat's most rewarding work now.  Her optimism shows when one speaks to her. She looks forward to the continued growth and expansion of Protected Harbor as they seek to build more homes for those in need. Because all those involved share her view that this is a project designed exclusively to honor God and the special people He created she believes that God will touch the hearts of new friends and generous people who will join in this mission.
Despite the current challenges presented by the pandemic and the frustration of having to inhibit the residents from living their usual routines outside the homes, Pat remains optimistic and forward looking. With so many more families needing the care and the services offered by Protected Harbor, facing the challenge of providing more homes as well as the funding necessary to accomplish it all is an ongoing effort. But as Pat and Whitey often reflect on happy memories of enjoying dancing, playing tennis and many travels around the world, these days can be described as one of peace knowing their son will be safely taken care of in a loving, Christian home for the rest of his life.