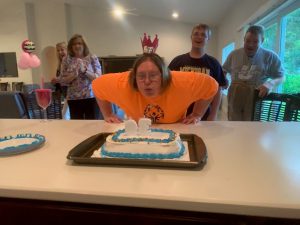 One of our residents celebrated her birthday on August 21st. Crystal celebrated her milestone 30th birthday in the company of her Protected Harbor family. Ken, happily said, "This has been a week-long celebration, and she deserves it. Crystal always lights up the room with her magnetic smile and contagious laugh, and it was only fitting that her birthday was treated as the celebration that it should be!"
The birthday week ended with a celebration at the Protected Harbor II house where she was gifted pink shoes (to match her pink bowling bowl) and a pink bowling bag! She was especially excited about this gift because her bowling league starts at the end of the month.
Crystal was beaming with joy as everyone gathered around her to celebrate her milestone birthday. She also emphasized that she was very thankful that God brought her to her Protected Harbor family!
Join us in wishing our special resident Crystal a very happy birthday! Please add Crystal to your prayers for another healthy year ahead.