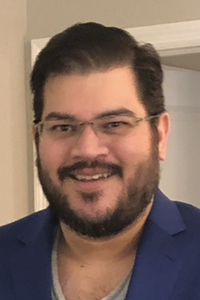 Nicholas Ferrao has been a valued "Friend of the Board" at Protected Harbor for about two years. He, along with others who also serve in the same capacity, has not only a heart for the special people we serve, but he also enjoys spending time with them getting to know each resident personally.
He understands that our staff must keep detailed records of the training and activities of each member in their care. This is in addition to the overall administrative needs we have in managing the business end of Protected Harbor. Behind the smiles and the day-to-day activities of our residents, Nick works behind the scenes helping to streamline the processes, setting up new computer systems, while troubleshooting others in both homes. In order to contribute positively in achieving these tasks, it is impossible to calculate the number of volunteer hours he has contributed.
Nick's heartfelt care and generous spirit are a direct result of his observing and being able to internalize his parents' words and actions. His mother, Tanya Croy is a former teacher and has been an active board member for over three years at Protected Harbor. His father and stepmother, Aubrey and Tina Ferrao have also supported local organizations for decades. In addition to their generous financial support of Protected Harbor, Tina has served on the board of the Boys and Girls Club and currently serves on the board of Community Pregnancy Clinics.
What wonderful examples to learn from and emulate! Loretta Mottram, our Executive Director, added: "Nick is always open and eager to help whenever I have issues with ever evolving technology. He is the backbone of our `Donor Perfect System'. From data entry, to mail merges, he makes sure that our records are accurate and timely. Nick never forgets God's Special People or the mission of Protected Harbor. From tether balls to Bibles, whatever a resident may need, he finds a way to fill it. We are blessed to have such an amazing Board of Directors and Friends of the Board network. They are what moves this ministry forward" concluded Mottram.
Driven by the Holy Spirit within, we are grateful for all Nick has done to help improve the lives of God's Special People and everyone else involved with Protected Harbor. Nick would like to share one of his favorite verses: "Each of you should use whatever gift you have received to serve others, as faithful stewards in God's grace in its various forms"  1 Peter 4:10