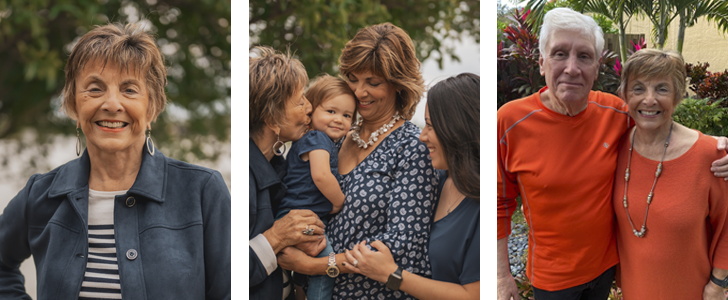 The familiar letters P.S. represent the Latin phrase "postscriptum", which indicate an afterthought, a last-minute sentence added to a completed letter. However, at Protected Harbor we have our own very special P.S. in the person of Pat Schubring who is far from an afterthought, or a last-minute addition. In fact, Pat has been a valuable asset alongside her husband, Bob for many years, collaborating with and fundraising successfully on behalf of the residents and staff!
Pat and her husband became interested and eventually involved with Protected Harbor over ten years ago through their friendship with George Pappas whose daughter Cleo is still a current resident. Initially Pat saw how God was using Bob in this ministry, but wasn't sure what her role should be, until she began spending time with the men and women with special needs. Seeing their grateful expressions and the magic spark that evolved into smiles, she became hooked!
Throughout her years of service to Protected Harbor, Pat has smiled, laughed, prayed and wept alongside the residents, remaining committed to the mission because of the love she developed for them. One memory that has remained indelibly embedded in her mind was seeing a former resident, Anne Marie, who was ill and unable to ambulate freely, being helped by volunteer Key Club students. Pat had invited this club of high school students to visit one of our Protected Harbor homes. They joyfully helped Anne Marie get to her feet and walk so she could participate in the games the others were engaged in. Behind the tenuous smile on Anne Marie's face was the deep gratitude for being shown love and inclusion by what were mere strangers just a short time before. Pat cherishes that memory in her heart to this day.
As a member of the Naples Kiwanis Club, Pat has introduced numerous members to Protected Harbor over the years and engaged many in volunteering and donating. She has also extended her reach by involving three Key Clubs from three different local high schools: Barron, Gulf Coast and Palmetto. The students have volunteered by decorating for Christmas, baking cookies, doing various craft projects and celebrating life with the residents. All thanks to Pat's leadership.
Her tireless work in coordinating our annual Prayer Breakfast as well as actively fundraising has kept her busy and engaged each year.  Making sure all she is involved in becomes a success, Pat aspires to see the mission of Protected Harbor grow and evolve in order to serve even more of God's special people by creating opportunities for them to engage with each other, the community and the Lord.
Pat and Bob have been married for 21 years, have three children and seven grandchildren. They met on a construction site in Naples and were married in a lovely garden downtown, but five years later they remarried in a religious ceremony at First Baptist Church Naples. They both enjoy dining out with friends as well as traveling. One of their favorite trips was to Israel. Pat explained that this was a life changing experience for her, being able to walk where Jesus Himself walked many years ago.
Pat still spends time in the construction management field as well as in the interior design industry, all while volunteering at Protected Harbor, enjoying her family and being involved in church activities. Despite all the busy hours, Pat still manages to bake her ubiquitous chocolate chip cookies which she freely shares with family, friends and her very grateful customers. We are thankful that Pat Schubring is no P.S. afterthought, this a lady on a mission for God!