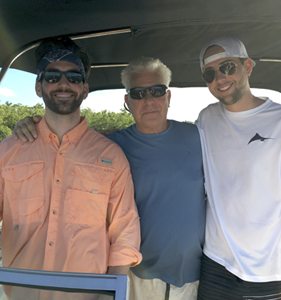 We are pleased to welcome Kerry Kubacki as the newest member of Protected Harbor's "Friends of the Board". These special friends enhance our mission with their generous support, dedication and commitment. Kerry's first introduction to Protected Harbor came from our board president, Jeff Buchholz, a fellow tablemate at First Baptist Naples' Band of Brothers weekly Bible study sessions.
Initially he did not seem too interested in involving himself with another mission since he already was actively involved in several activities at First Baptist, one of which was the church's food drive. He also volunteered at Hope for Haiti which was a satisfying way to serve God and Haitians in need.  A  turning point in his life came with a diagnosis of Covid-19. Kerry found himself in intensive care for twenty-one days where he came close to death. His faith and favorite Bible verse helped pull him through the trial: "Do not be afraid, I am always with you" Isaiah 43:5 Once recovered, after much prayer and intercession from family and friends, he came to the realization that God wasn't finished with him yet; he had more to do before being called home.
God tugged at his heartstrings by reminding him of what he had heard about Protected Harbor. While hospitalized, Bible verses that emphasized God's love for His special creations kept recurring and bringing his thoughts back to Protected Harbor and its special residents. He always had a love for children, but this was different: God's special children are not categorized by age, but by His infinite love for them as a Heavenly Father.
Once he returned home from the hospital and began regaining his strength, Kerry was able to attend a board meeting and decided to join as a Friend of the Board. He felt deep in his heart that this is where God wanted him at this moment in his life. Kerry comes to us with a background which is as eclectic as he is: he began his work life at age twenty by driving a semi-truck for a large trucking company. He did that for fifteen years.
In 1987 he moved to Florida, where he reinvented himself becoming a real estate broker.  He worked for C & W Development for twenty years as their in-house broker as well as managing their model centers. He now works part time as a closing agent for Quicken Loans, specializing in mortgages. His thirty-five year marriage to the love of his life Tish, has produced two wonderful sons, Kory, twenty-nine and Kyle, twenty-seven. Tish teaches at Gulf Coast High School in Collier County. She and Kerry enjoy occasional escapes from the Florida heat by going to Colorado or North Carolina where the mountainous terrain is a nice departure from the flat Florida landscape. As a knowledgeable, hardworking, hands-on person, Kerry is definitely a blessing to our residents and the group of men and women who make the board of Protected Harbor so unique and special.