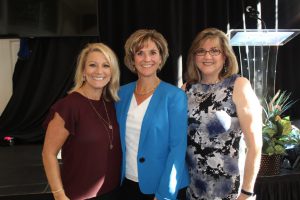 Protected Harbor's 9th Annual Prayer Breakfast was quite a success! With the Lord's presence evident, attendees joined together in prayer to support God's Protected Harbor. The breakfast was in a room at Kensington Country Club that had massive windows overlooking acres of greenery. Perhaps the most amazing portion of the event was the evidence of the presence of God in the room. Everyone in attendance seemed to have a peacefulness within them as the sun shined through the wall-length glass windows, making it evident that God had his hands on every speaker and person in the room.
Attendees were welcomed by Jeff Buchholz, Protected Harbor's incoming Board President. Rev. John Anderson then led the opening prayer, thanking God for bringing everyone together to support Protected Harbor. Following Rev. Anderson's prayer, attendees enjoyed a wonderful spread of fresh fruit, eggs, bacon, potatoes, and homemade apple fritters!
At the closing of the delicious meal, Protected Harbor's support staff member, Becky Lemon, shared something special about each one of the residents – her favorite experiences with the residents, their favorite activities, and their favorite things to do together. It allowed everyone in attendance to understand why the Lord had brought them all together. A short video allowed attendees to put faces to the names of our beloved residents.
Everyone was moved by the singing performance from Bria Bare, a professionally trained vocalist who was called by God to specialize in worship music. Her performance set the tone for Rev. Melissa Pearce to take the stage. While Rev. Pearce began to discuss how Protected Harbor is one "piece" of the larger puzzle, she began to recall certain moments she had with the residents. She shared one special moment that stood out to her from her visit to the Protected Harbor Ladies Home. Rev. Pearce shared with Janie how much she liked the crocheted blanket on her bed. Janie eagerly told her that she had made it herself and asked Rev. Pearce to tell her what colors she liked best and that she'd make one for her, too. Recalling this memory brought tears to Rev. Pearce and most in the audience. At the end of Rev. Pearce's emotional sermon, Bria Bare sang another beautiful worship song. Pastor Kevin Taylor of First Baptist Church of Naples concluded the event with a moving closing prayer.
First, we would like to thank God for being with all of those in attendance at the event and for assisting Protected Harbor every step of the way. We would also like to thank everyone who took the time out of their day to join us in worship, helping to raise funds for Protected Harbor. Special thanks to Jeff Buchholz, Rev. John Anderson, Becky Lemon, Bria Bare, Rev. Melissa Pearce, and Pastor Kevin Taylor for the special role that they played. Finally, we would like to thank the wonderful staff of the Kensington Country Club.
With such a successful event, we are now motivated more than ever to grow as an organization. We would be very grateful if you would join us in our mission. We know that everyone has their own Protected Harbor puzzle piece and we pray that you will find yours.
For more information, please call us at 239-278-0200 or like us on Facebook!