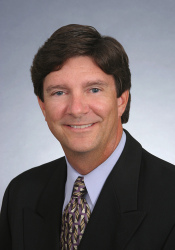 Dear Friends,
It is with grace and gratitude that I am writing to you today. I have the honor of following my friend, Bob Schubring, as the next President of the Board of Directors for Protected Harbor. I was called to this organization in 2011 after having lunch with Bob. He bought lunch, I said yes, and the rest is history.
Once I began visiting the homes and meeting the residents it became apparent to me that this organization is something very special. I had the opportunity to meet future resident Dennis through his parents, as I served on a committee with them. From that point on, we were on a mission to get the second home constructed so that Dennis could have his own place to live. Succeeding in getting the home built, and moving Dennis in, has been one of my most satisfying involvements with this organization. This transition would not only give his parents peace of mind that Dennis would be safe, but it also enabled him to flourish spiritually, emotionally, personally, and physically!
With the sense of our Lord guiding me on this journey, Protected Harbor has continued to make strides to fulfill the need for permanent supportive housing, enriched with Christian care and a loving, family atmosphere. It is Protected Harbor's mission to provide the very best care for all of God's special people.
Trust in the Lord with all your heart,
and lean not on your own understanding.
in all your ways acknowledge Him,
and He shall direct your paths.
Proverbs 3:5-6
Thank you for your faithful prayers and support. May God richly bless you!
Jeffrey Buchholz, President