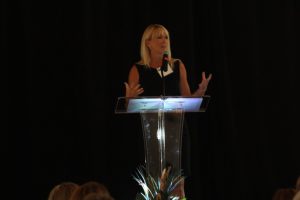 This month we would like to thank Becky Lemon for all that she does for Protected Harbor and its residents. Becky Lemon was recently one of our key speakers at our 9th Annual Prayer Breakfast where she spoke to supporters about God's place at Protected Harbor and its residents. Everyone in attendance was drawn to the way she spoke about the residents because her love and compassion for them was clearly evident.
Perhaps the most amazing part about Becky is the fact that she attributes all of the success of the organization and the residents' progress to the Lord. She knows that she is a "piece of the puzzle" that God has placed her in and she states that she is doing what she feels God wants her to do while at Protected Harbor. She and her husband Michael work together to teach the residents the word of God, independence, and living skills. They also help the residents grow as individuals by teaching them how to ask God for what they need, taking them to activities, and getting them involved in vocational workshops.
Becky came to Protected Harbor this year with her husband Michael Lemon when they got the call from God to serve at Protected Harbor with the residents. Her work is appreciated and we thank God every day for calling her and Michael to Protected Harbor.
Please pray for Becky's continued success at Protected Harbor to serve God and the residents. Pray for her and Michael's happiness and health as they continue on their Protected Harbor journey.
Thank you, Becky, and God Bless!