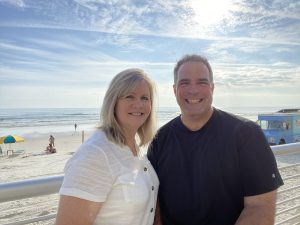 The Protected Harbor family has always been blessed, since its inception, with loving caring people who, casting aside their own personal dreams and desires, dedicated their lives to serving God and God's special people. In April of this year, we were blessed with the addition of another such couple: Kim and Suzy Brooks. They have been compassionate caregivers not only to their own children, also to foster children as house parents in five Christian children's homes in four states.
Their family consists of two adopted boys, two biological girls and one son in heaven. They also have four grandchildren with two more on the way! Their thirty-four yearlong marriage was therefore not only blessed by raising their biological and adopted children but also by ministering to children in the foster care system. 
More recently they felt led by God to switch their emphasis of ministry from children to adults with developmental disabilities. The ages may be different, but the need is the same; caring for those unable to care for themselves. The call to serve at Protected Harbor became therefore an obvious perfect fit for Kim and Suzy.
This wonderful couple use their infectious energy to engage the residents in various activities throughout the day including preparing creative meals like homemade pizza pockets. Creating foods like these fill the house with delectable aromas resulting in contagious smiles and giggles by the resident chefs as they gobble down their creations. Together they manage to turn good days into GREAT days, despite the pandemic. Throughout the cooking process, they never lose focus on the source of their blessings, as they remember to thank and praise God.
In addition to other gifts, Suzy is an amazing organizer, while Kim has handyman skills sorely needed in the homes. One day he can be found cleaning gutters, while another day he can be engaged in helping a resident shave! Together they have been able to fill many roles needed to make the lives of the residents better. Loretta Mottram, our Director, expressed it best: "They serve the Lord by sharing their gifts and talents to serve our residents."
Finally, Kim and Suzy want everyone to know: "Our life verses have always been from James 1:27 "this is pure and undefiled religion in the sight of God the Father, to care for the widows and orphans in their distress…"  and from Matthew 25:40  "…truly I say to you to the extent you did it to one of these brothers of Mine, even to the least of them, you did it unto Me."
This is truly our heart, to follow God's example and His leading in caring for the vulnerable in our society by loving them, caring for them and serving them for the glory of God."