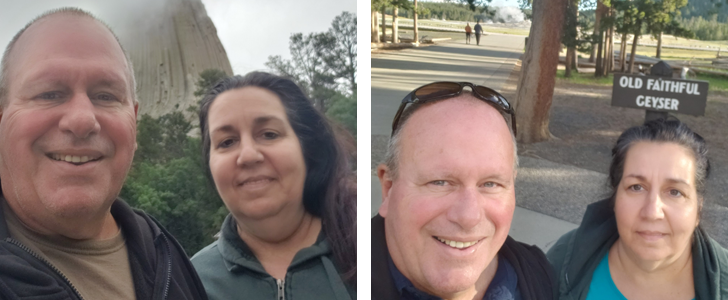 Mark and Athena Priquette joined Protected Harbor in August as our newest Direct Support Professionals working with the clients residing in our homes. They met and married while living in Italy. After their first child was born, they discovered an intimate and personal relationship with their Savior; a realization that changed their lives forever.
Mark served in the Air Force, which demanded they often move geographically. During this time they began fostering children and caring for people in need. Since retiring from their careers, they prayed for an opportunity to do mission work. The answer arrived when they read about a need for staff at Protected Harbor.
Their prior experience as house parents for several years gave them the impetus to learn more about our ministry, eventually joining our staff. Their love for people with special needs, coupled with a keen ear to listen for God's direction gave them confirmation that this move was God's plan for their lives.
Since arriving, Mark and Athena have treated this less as a job and more as becoming part of an extended family. They can love one another, enjoy communal meals, laugh, play, teach, learn, and engage in the many activities that fill our clients' daily lives.
When they have time off, the Priquettes will continue to pursue interests they had before moving to Florida: traveling, working on their home and land in Kentucky, attending their home church, and visiting family. In fact, there are five grandchildren anxious to vie for their attention at home in Bowling Green, Kentucky!
Their favorite Bible verse can be found in I Thessalonians 5:18 "Give thanks in all circumstances; for this is the will of God in Christ Jesus for you." We are all thankful for this couple and grateful for their service to the Protected Harbor family.