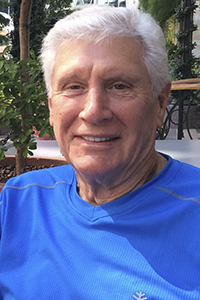 Bob Schubring has been a board member of Protected Harbor since its founding. He came to us from the world of business having worked as a project manager for a major general contractor in Collier County. Once Bob was introduced to the vision and ministry of Protected Harbor, he knew this was a call to service. His heart melts every time he sees the smiles and joy on the faces of our residents. His involvement is a special blessing.
When asked why he became involved, Bob's simple answer is, "God told me to, is all I can say". He affectionally refers to the residents as "the kids" and confesses having fallen in love with each of them. His wife, Pat, also gives her heart and service to Protected Harbor as a valued Friend of the Board.
Bob's work with Protected Harbor may have slowed down lately, but his passion for its success has not. He is as excited about it now as he was years ago when he first met George Pappas at a Bible study. George and Athena Pappas are founding members of Protected Harbor. Their daughter, Cleo, became one of our first residents.
Initially serving as a board member, Bob stepped into the role of Board President and served in that capacity for several years. He tells anyone who asks that working with Protected Harbor "is the most rewarding thing I have ever done."
He finds true enjoyment in seeing the residents grow spiritually and achieve greater independence while being cared for by the staff. Bob is particularly excited about the future goals and plans laid out by Loretta and Robin, many of which have already been realized. The idea of being able to serve so many more people in our community was unimaginable to him only a short time ago.
Bob's favorite verse says much about his heart, " Let no one seek his own good, but the good of his neighbor." I Corinthians 10:24