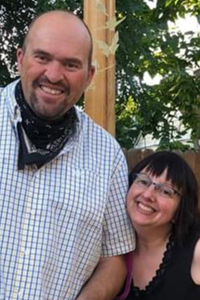 Chris and Angela Bleier joined Protected Harbor in May as the newest Direct Support professionals. They hailed from Denver, Colorado, before moving to sunny Southwest Florida. They each have experience in dealing with people of all backgrounds and abilities. Angela worked as a hairdresser for 25 years and volunteered in a nursing home. Chris was employed in the Denver Public Schools system for 18 years, working with students with intellectual disabilities. He also held a supervisory role in a public transportation company.
Because both had experience working with adults and adolescents with varying degrees of developmental disabilities, their move to Florida to work at a Protected Harbor home seemed like a great one. But for them, the deciding factor was our mission statement and its emphasis on the Christ-centered values it represents. Caring for people using guidance provided by Christ's teachings in a wholesome environment is an essential component for them.
Angela's sister had already moved to Ft. Myers. There she met and became friends with Ginny and Dennis Hicks who recently retired from Protected Harbor. Ginny informed Angela that an opportunity was open, and the rest became history. Loretta Mottram and the Protected Harbor Leadership Team met with them, reviewed their credentials, and prayed with them, they encouraged them to consider the move. Chris and Angela credit God's guidance for their decision noting, "He wanted us there".
Since joining Protected Harbor, the Bleier's have experienced true joy and begun to understand the reason behind the smiles of our clients. They are beginning to understand what makes the residents happy or sad, what their emotional and physical needs are, and how to have fun with them. They have also observed that the entire staff shows the same love and compassion that God exemplifies through the Scriptures; it is true agape love.
Being "parents" to the residents is a joy. It is as rewarding as it is fulfilling; from consoling one who is crying, to accompanying another on a doctor's visit, just being present for them is what it's all about. In their free time, they enjoy walking their dog and playing frisbee golf.
When asked about their favorite Bible verses, Angela cited John 3:16, while Chris chose the entire Book of Psalms.