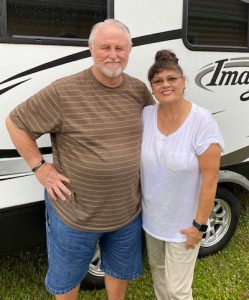 Dennis and Ginny Hicks joined the staff of Protected Harbor in 2017 and have never regretted their move. Prior to joining Protected Harbor both Dennis and Ginny were deeply involved in charitable occupations: she assisting a small group of elderly residents at Calusa Harbor in downtown Ft. Myers, he as a Chaplain at Pilot Truck Stop on Luckett Rd.
They regularly attended the same Life Group at McGregor Baptist Church as Perry and Beverly Duncan who introduced them to the idea of working at Protected Harbor. It took a bit of persuading, but the Hicks' became convinced this was the right move for them after visiting the home where our first women were in residence. After spending much time in prayer, asking for God's guidance in the matter, they received assurance from the Lord that this was what He wanted for them.
In 2018 Dennis and Ginny were integral in helping establish the second Protected Harbor home. They worked tirelessly to facilitate its successful launch after which they happily returned to the residents at the Camino Real Way home where they first began. The ladies residing there held a special place in their hearts and the feeling was mutual.
Dennis' favorite part of working at the house is spending time alongside the ladies in the kitchen where they enjoy meal preparation and all aspects of cooking (and eating of course)!
Meanwhile Ginny occupies herself socializing and playing games with the ladies all while teaching them life skills useful in their everyday lives.  
Dennis and Ginny have been married almost 55 years. They have two adult sons who are married and successful in their own right. They enjoy going on trips using their "Travel Trailer" mainly to reach state parks where they can spend time fishing and roaming various flea markets they encounter while on the road.
"Dennis and Ginny are genuine servant leaders. They tirelessly give of themselves in every situation to help those we serve. They selflessly cover scheduling gaps, lend an extra hand to help with medical appointments, and work diligently to keep the landscaping at our property on Camino Real Way looking meticulous. We are blessed to have them on our staff" says Loretta Mottram, our Executive Director. This sentiment is shared by all who work alongside them or have had the pleasure of meeting them.