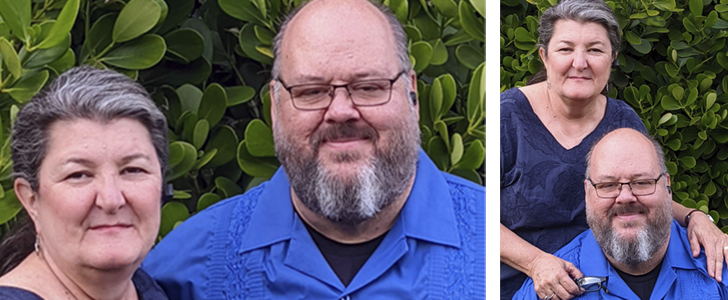 Jeanni and Chadwick Duncan have been an integral part of our staff for just over two years. As residents of Florida for the past twenty years, they were both aware of the need in our area for support systems that serve persons with special needs. Early in their careers, they served as house parents for the Florida Baptist Children's Home. The couple continued on to hold many diverse roles. Chadwick became, in fact, their regional manager, while Jeanni held other important positions.
During this time, they became aware of Protected Harbor and were intrigued with the mission statement of our organization. After spending much time in prayer, seeking the Lord's guidance, they joined Protected Harbor as Direct Support professionals and Operations Managers. Their combined experience and dedication to God's work are a perfect fit for the needs of our residents.
The Duncan's believe that their work is "really about helping people who can't help themselves…we feel that this is something that Christ and the Bible teach us to do". Since joining Protected Harbor, they are thankful that God led them here. They have had the opportunity to learn about new things and experience personal growth.
When asked about a favorite memory from this past year, they confessed that it is hard to simply pick out one memory or incident. Every day has provided smiles and joy, loving, laughing, and enjoying the company of staff and residents. However, Jeanni did mention that a memorable highlight was seeing one of our clients, Deb, come to Christ and ask to be baptized. Watching the Lord change her heart, seeing her baptized, and watching her grow in her relationship with God's word is priceless.
The Duncan's expressed they are convinced this is where God wants them to be at this time in their lives. They love sharing experiences that fill their hearts with joy. Like the small successes of seeing a resident finally master a cooking challenge, or finally being able to do their own laundry. A big God is revealed in the seemingly small things.
For further insight into where their hearts lie, just check out their favorite Bible verses. Chadwick loves James 1:27 and Jeanni's favorite is Proverbs 3:5,6.