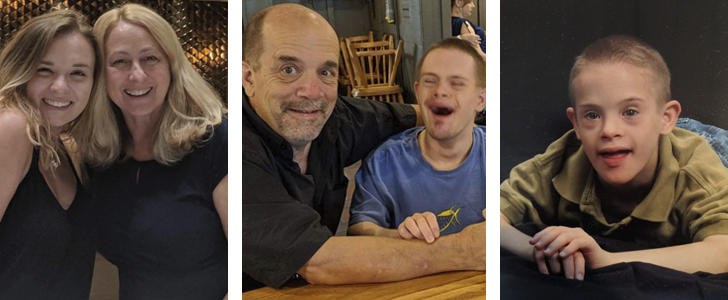 We are pleased to announce Pete and Cindy Garritt have joined our team of Direct Support Professionals serving residents in Protected Harbor II. They learned about our ministry from former staff members Kim and Suzy Brooks during a small group meeting at Kings Church in Lakeland, FL.
Another couple in that same small group, Debbie and Pat Kappenman also helped pique their interest when they too began working with Protected Harbor. Cindy had shared with them that she missed the special needs community, especially after her special needs son Duncan passed away. Cindy had recently retired from her career as a flight attendant, so the convergence of circumstances became God's way of answering her prayers.
Cindy and Pete previously lived in Denver, where Pete, who has a law degree and a Master's in public administration, worked for the City and County of Denver in the Human Resources division. During that same period, Cindy, who has a Master's Degree in communication, worked with Walmart, opening new stores and coordinating all the media for the new store managers.
Their eclectic backgrounds serve them well in their work at Protected Harbor, but their biggest contribution is their intimate and personal understanding of the resident's struggles. Having had their own son go through the same challenges, they understand that it can take a person with special needs a little longer to communicate, or to accomplish a task and to understand that all victories, even little ones are actually big ones!
The Garritts want to emphasize for the residents that this is their home, the place where they can flourish and live without judgment. "I want to make the environment as comforting, loving, and as fun as possible." Cindy recently said. They both hope to help the residents discover more of what they can do, rather than what they can't do.
During their free time, Cindy and Pete enjoy visiting and spending time with their daughter Lydia as much as possible. Pete enjoys gardening, while Cindy loves renovating. They recently bought a house after having moved to Florida, and the renovations are a fun challenge for her. They also enjoy traveling and exploring previously unknown areas of Florida.
Pete and Cindy each have personal, favorite verses that help guide their lives. Cindy loves John 7 and the message about how God has chosen us, how He will find us and how we can run to His arms. Pete loves 1 Corinthians 15, which ends with this verse: "therefore my dear brothers and sisters, stand firm. Always give yourselves fully to the work of the Lord, because you know that your labor in the Lord is not in vain." We are blessed the Lord continues to draw devoted couples like the Garritts to Protected Harbor.