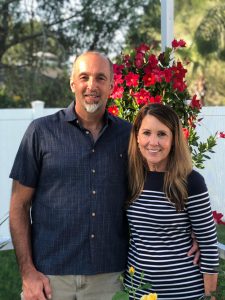 2020 has been a tumultuous year filled with challenges and difficulties but also many victories. One special blessing occurred last fall with the arrival of Pat and Debbie Kappenman to our staff team. They join Dennis and Virginia Hicks in serving our residents at the 4561 Camino Real Way home.
The Lord led Pat and Debbie to our ministry because of a prayer request suggested by two other staff members, Kim and Suzy Brooks. In praying for Protected Harbor, Pat and Debbie began to ponder whether the Lord was calling them to be of service here.
Pat retired from a career in finance and marketing last year and was seeking his next opportunity after this rite of passage. In the past, he also pastored a church and actively participated in two new church plantings where he served in both as an elder. 
Debbie joins Pat in bringing joy and blessings to the residents of Protected Harbor. She is a servant leader in all she does. She seeks every opportunity to provide daily training and positivity to the residents through her cooking, mentoring and praise. This energy lifts the spirits of all around her.
"We are blessed to have Pat and Debbie with our ministry. Their energy, passion and dedication to the ministry and residents of Protected Harbor resonate in all they do." as recently commented by Loretta Mottram, our director. And we agree. 
For this couple, just married this past summer, joining the staff of Protected Harbor is the opportunity they were looking for to embrace a new calling in the Lord's service. Please pray for Pat and Debbie to be fulfilled as they continue to serve to our residents and bring God's joy into their lives.