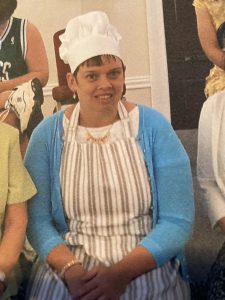 Ashley is a resident of Protected Harbor and lives in the women's home. Her interest in cooking is no secret. While Ashley has many things that occupy her day, she always sets aside time for what she enjoys most – cooking. She works with support staff preparing an array of dishes, chopping and cutting the ingredients, and testing the final product. Those who know Ashley well, describe her passion for cooking as captivating. She loves to experiment, but most importantly, have fun in the process.
Adults living with developmental disabilities need to be able to complete essential tasks in a safe environment. Cooking has many hurdles that will arise. The benefit of learning to cook is that it provides an outlet for independence. This is a passion of Ashley's as she can decide what she and the other residents will enjoy at dinner together. The life skills that Ashley is building are pivotal for her development and well-being. With each celebration in the home, Ashley participates along with the other residents in preparing their favorite dishes. Ashley is responsible for many tasks from start to finish. Support staff often assists in the process, ensuring that the meals are completed and the residents remain safe.
Preparation ahead of time helps adults with intellectual and developmental disabilities learn to cook. The recipe for success includes consistency, repetition, patience, and a dash of humor. Setup and preparation are vital in all meals cooked at Protected Harbor. The layout of items is important as the residents and support staff make decisions. Supplies must be able to be easily reached or moved. There are a lot of different compartments and equipment in a kitchen that can be confusing, but Ashley and the support staff make an excellent team. By helping to decide where to store items for ease of use, Ashley feels part of the process as she can complete each task seamlessly.
Safety is essential when learning to cook. A non-slip cutting board with a rubber backing is always helpful. Ashley focuses on the cutting, chopping, and mixing, while the support staff completes any task where Ashley could potentially injure herself. One of Ashley's favorite dishes is chicken tacos with fresh-cut vegetables and spices. It may take a bit of preparation, but the tacos are always a favorite among the residents.
Finding a recipe that has a few ingredients with step-by-step directions, and a colorful picture can also be quite challenging for the team. It has been found that a simple recipe makes the process for adults with developmental disabilities much easier to follow and complete. All parties involved must be excited about the recipe they are cooking for a fun and successful experience.
Often the support staff read the recipe with Ashley before they begin. The purpose of this is to bring the task into focus. A helpful hint for anyone teaching adults with developmental disabilities to cook is to cover the recipe with a piece of paper leaving only the part they are working on visible. Once that task is completed, the teacher can move the paper as the student completes each task. This practice helps to ensure that a good focus is kept from start to finish.
Learning to cook has taken a bit of time for Ashley, but it is a rewarding and fun process. Spills and mistakes occur, as not all recipes are easy. Ashley and the support staff work together very well and don't mind. Teaching adults with developmental disabilities to cook is well-worth the time. Assisting an individual on their journey toward independent living not only helps to shape that individual's self-esteem and confidence, but it is quite rewarding for all involved, not to mention the delicious reward!