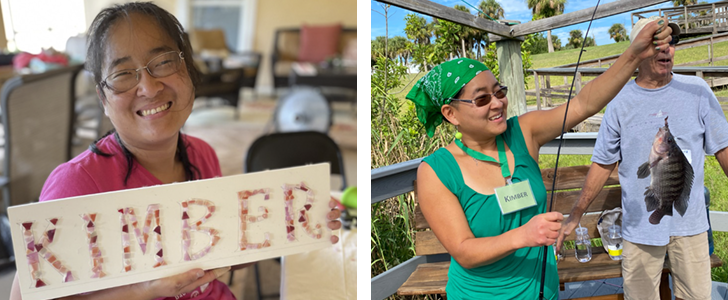 It is a pleasure to introduce Kimber, a resident at our Camino Real Way home. She exudes joy when describing the many reasons, she loves living there. Despite coming from diverse backgrounds and geographical areas, Kimber feels blessed to live in a community surrounded by people who live with similar challenges to those she faces. Communally, they all bring something different to the experience, making it a unique but balanced home environment. The unifying thread throughout is their love for each other and for God.
Kimber rejoices in the fact that the staff is always there to help bring out the best in each of the clients by teaching them new activities and achieving new goals. For example, she is not a strong reader so when trying to decipher a recipe she is working on, the occasional help she receives from staff becomes essential.
Kimber is happy to give back by volunteering in the kitchen of her church. She serves lunches, washes dishes, and does light cleaning. On Wednesday nights she serves dinner providing an opportunity to interact with church members. Also serving as a Greeter during Sunday services gives her a feeling of fulfillment and joy. Everyone at the church recognizes her, and this makes her smile.
Kimber's daytime is often occupied by recycling and refashioning older jewelry into new pieces. She also enjoys watching Christian movies and going out to eat Chinese food. Her favorite holiday is Christmas because it celebrates the birth of Jesus.
Staff members Pat and Debbie were able to schedule a private tour of the Naples Zoo for our clients. Kimber is looking forward to that excursion! A favorite recent memory, and one she'd like to repeat, was the community "Night to Shine" dance and festivities that occurred a few months ago. Dressing up for that event made her feel like a princess.
When asked about her favorite verse, without hesitation, Kimber replied: 1 Corinthians 13:4-7 "Love is patient, love is kind. It does not envy, it does not boast, it is not proud, it does not dishonor others, it is not self-seeking, it is not easily angered, it keeps no record of wrongs. Love does not delight in evil, but rejoices with the truth, it always protects, always trusts, always hopes, always perseveres."   These are wonderful words to live by.